10+ Voxel Spaceships for free
The Camo Stellar Jet is out! Another military ship
---
The Camo Stellar Jet is a ship from the space army.
Your game needs a furtive spaceship? Then this one has been especially designed for this purpose.
The ship features a solid shell that prevents combat damage, and the back reactors and the front air shafts allow this ship to go at a ultra-sonic speed, over 10 000km/s!
This ship is a must have for successful win in interplanetary wars.
Have you used this ship in your game? Then don't hesitate to post some captures in the community : https://maxparata.itch.io/voxel-spaceships/community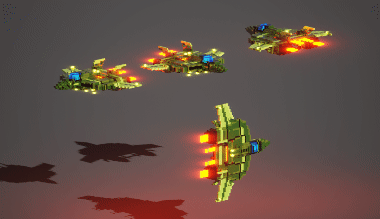 Files
Camo Stellar Jet.zip
15 MB
Dec 03, 2019
Get 10+ Voxel Spaceships for free